Using Automatic Resolution and Frame Rate Settings in Shadow
As of version v4.10.43, Shadow can automatically detect your display's screen resolution and frame rate. Shadow will also suggest new display settings and allow you to manually change these settings from the Quick Menu. Use this article to see more about Shadow's automatic resolution settings and how to change the resolution and frame rate.
📝 Note:
To use this feature on Windows, macOS, or Ubuntu (Linux), download the Shadow application from our website: https://shadow.tech/shadow-apps/

Android, Android TV, iOS, and Apple TV will include resolution and frame rate settings in a future update.

Shadow Ghost and Shadow Box will automatically apply the maximum screen resolution by default.

By default, if your resolution is higher than 1080p, choose a 60Hz refresh rate. Shadow is not supporting more than 4k on 60Hz. If you want to use an higher refresh rate, you'll have to decrease your resolution (1920 x 1080 for example).
Automatic Resolution Settings
When starting Shadow, the application will automatically detect and adjust the resolution and frame rate settings best suited to your display. For example, if your screen's resolution is 1920x1080, Shadow will stream at the same resolution.

If your computer is connected to multiple screens, Shadow will automatically suggest new settings when the window is moved to a new display. Click Use Settings to apply suggestions from Shadow.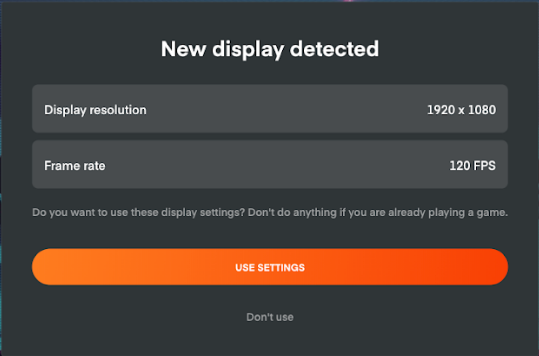 ​
Frequently Asked Questions
How do I manually change the resolution and frame rate?
To manually change the resolution and frame rate settings, start Shadow > open the Quick Menu > click the Settings tab. Click the

arrow next to the setting you'd like to change and select a preconfigured option. Shadow will update your settings each time a new option is selected.
Use option A to change your display resolution. Use option B for your frame rate.
💡 Tip: For resolutions higher than 1920 x 1080, choose 60 FPS.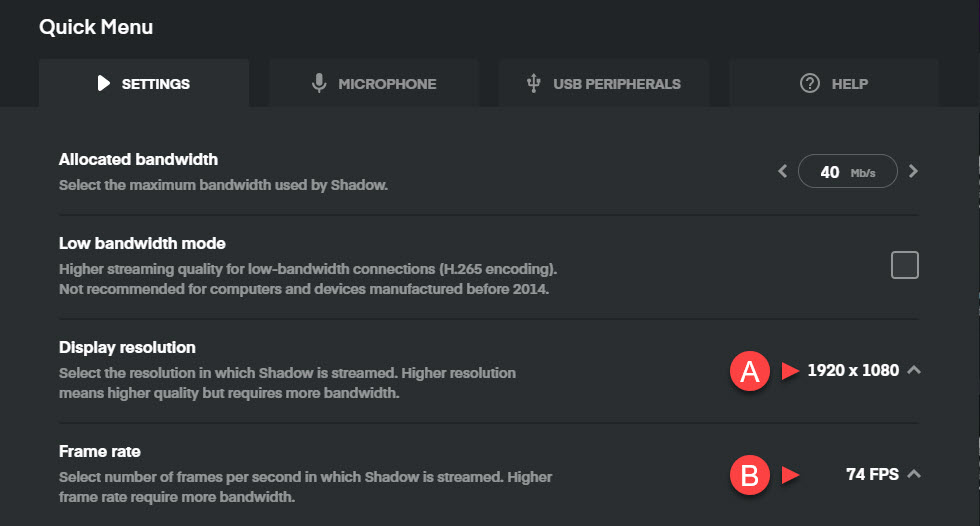 🚨 Warning: Do not change your resolution or frame rate while playing games, streaming, or running other applications that use independent resolution settings. Close any applications before making changes.
What if the resolution I want is not available in the Settings?
If your preferred resolution or frame rate is not available in the Quick Menu, use Windows to create a custom resolution and frame rate.
Can I disable this feature?
To disable this feature:
Open the Shadow launcher.

Click the Settings icon.

Scroll down to Experimental Settings.

Click the checkbox next to Display Safe Mode.