How to connect a Controller on Shadow
Gaming isn't the same without your favorite controller. To use your controller with Shadow, open the Shadow launcher, click the Start button on the launcher, and connect your controller to your device. You can also see if your controller is compatible with Shadow.
Connect your controller to Shadow
Start Shadow.

Connect the controller to your device.

If you're using a USB, plug it into a blue USB 3.0 port.

When your controller is connected, a notification will appear.


If a notification doesn't appear, restart Shadow.
For the Shadow Ghost or Shadow Box
The Quick Menu is not available on the Shadow Ghost or the Shadow Box, but Shadow will still recognize your controller without this feature. We hope to add the Quick Menu to these devices in the future.
For help pairing a controller to the Shadow Ghost via Bluetooth, see how to set up a Bluetooth device on Shadow Ghost.
Check if your controller is compatible
Use the documentation in this section to find your controller. This documentation includes icons to describe which features from your controller are available on Shadow. Refer to the table below.
This controller has rumble support and will vibrate

This controller has haptic feedback and will simulate this technology

The controller can be connected via a wired USB

The controller can be connected via a wireless USB adapter if offered by the manufacturer

The controller can be paired via Bluetooth, without a wireless USB adapter
Lists of controllers
Choose an option below that best describes your controller. If your controller is not documented, it's likely the controller has not been tested or is not supported.
These lists will be updated as Shadow's Controller Management feature evolves.
Controllers are more likely to work properly on devices that meet or exceed our recommended requirements.
Frequently asked questions
How do I find my controller's model number?
Model numbers are usually located on the back of the controller, as shown in the picture below.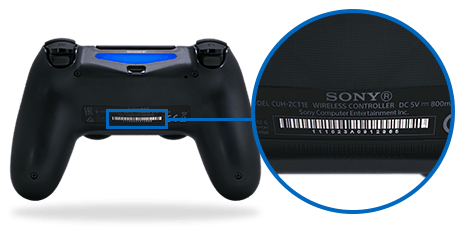 How do I send feedback about my controller?
Should you experience an issue with your controller, let us know via our Shadow controller issues form.
To get help from a Support Hero, contact us.
Why are there no controllers listed for Ubuntu, iOS, or Android?
In most cases, controllers that are compatible with Windows are also compatible with Ubuntu.
Ubuntu, Android, and iOS cover only a small portion of our user base, making it difficult to get feedback for all of the controllers listed above. However, most popular controllers such as the Dualshock 4 and Xbox One have been known to work well on Android and iOS.
Why can't I find my controller on this list?
It's possible we have not received enough feedback about your controller to share conclusive data. If you're having any trouble connecting your controller, contact us so we can better assist you.
Still have questions? These articles may help:
🎉 Thanks to our friends at Icons8 for the Color and Fluent System Filled icons featured on this page.