How to make your firewall compatible with Shadow
Shadow uses thousands of ports on your local network to send and receive data, providing a greater chance at securing a stable connection with low latency. Blocking any necessary ports can congest your connection to any of Shadow's data centers, causing high latency and even packet loss.
To make your local firewall compatible with Shadow:
Open ports 8001 to 15299.

Apply this rule to both TCP and UDP connections.

Apply this rule only to outbound connections.
📝 Note: If your internet connection is provided by work, school, or another business, contact the local administrator for assistance.
How to make your Windows Defender compatible with Shadow
For help opening ports using Windows Defender Firewall, see the instructions below. To get help with a different service, contact your firewall provider for assistance.
Open Windows Defender Firewall.



Click Advanced settings.



Choose Outbound Rules > NewRule....





Choose Port, then click Next.





Choose TCP or UDP. You can create another rule for either protocol later.
Choose Specific local ports > enter 8001-15299.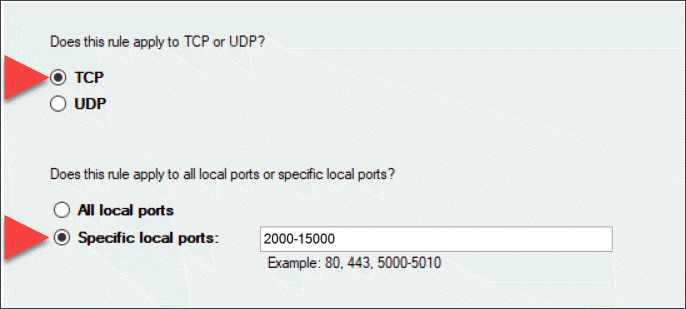 Click Next.
Complete the remaining steps in the window, then click Finish.
For more help, see how to open or close a port on Windows Defender or contact your firewall provider.
To get help with Shadow or ask questions about security, contact Support.
🚨 Disclaimer: Shadow is not responsible for managing, administering, or monitoring security for your devices or local internet connection.